Pat Mahomes Reveals His Five Greatest Quarterbacks of All Time
Pat Mahomes Reveals His Five Greatest Quarterbacks of All Time
Do you think that this is the most talent there's ever been at the quarterback position?
I would say maybe top to bottom. You look back and you got like Dan Marino, Joe Montana, Terry Bradshaw, freaking Troy Aikman, [John] Elway. There's been some Hall of Famers that have all played in the same era, but I think top to bottom, it's hard to find a spot on any team, but the quarterback's not a guy that you can see win playoff games. And I think that's made it so special. I think that comes with development, coaching, and evolution of the quarterback position. So I think it's definitely a golden era for the quarterback position. Maybe we don't have those Hall of Fame guys yet at the top, but one through 32, I mean there's quarterbacks that don't even get a chance to start that are great players.
You named a lot of legends there. Do you have a top five quarterbacks of all time list?
Yeah, I mean, you got to say Tom's 1, but if you talk about the legends of the game, Tom, Peyton Manning, obviously Aaron Rogers, Joe Montana, and then it gets down to Dan Marino or John Elway to round off your top five. But I mean there's some great quarterbacks that played this game, man, I'm trying to learn from them because even though the game has progressed, there's still stuff in the past that helps you become a better quarterback.
Aaron Rodgers finally came over to the AFC, is that something that motivates you even more?
I don't think it motivates me anymore, but the crazy part was when you play those great quarterbacks, you expect to play them at some point in the playoffs, in the Super Bowl, that should be your goal. And so they come to the AFC, it just makes the AFC even better. But I've been lucky enough to play in a division where it's like playoff football every single week and people wonder why we have so much success, and I'm like when you play playoff football teams when you get to the playoffs, it doesn't seem like it's such a big transition. So if you tell yourself that and you go through the AFC, and you're winning AFC games week in and week out when you get to the playoffs and you get to the Super Bowl, you're like, "I've been playing this type of football yearlong."
The goal obviously is always to win the Super Bowl. You've won two of those and you've won two MVPs. How do you stay motivated? How do you keep pushing yourself to do something that you haven't done already?
You just try to chase greatness, I think that's the biggest thing. To me, it's not always about the positivity of winning the Super Bowl, but I've always looked back and said I don't want to have regrets. I think it's that more than anything. I've realized how special the place I'm in with Kansas City is, with the best tight end of all time, one of the best defensive players of all time, and one of the best coaches of all time. I know this won't last forever. I'm going to have to just try to maximize it every single year that I get a chance to. I don't want to have regrets about not doing something to the best of my ability. And I think if you have that mindset every single day, then at the end of your career you can look back and say, "I acted the right way."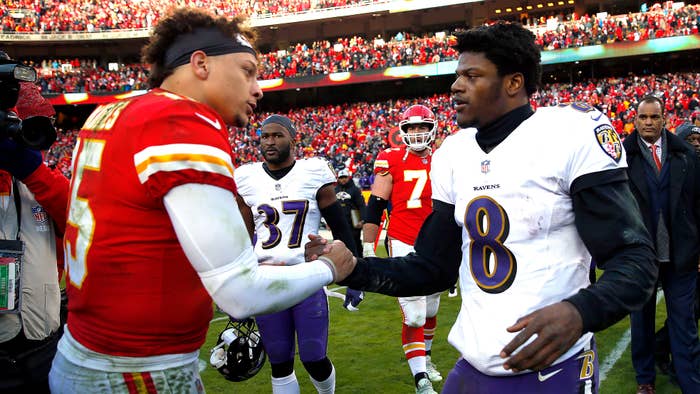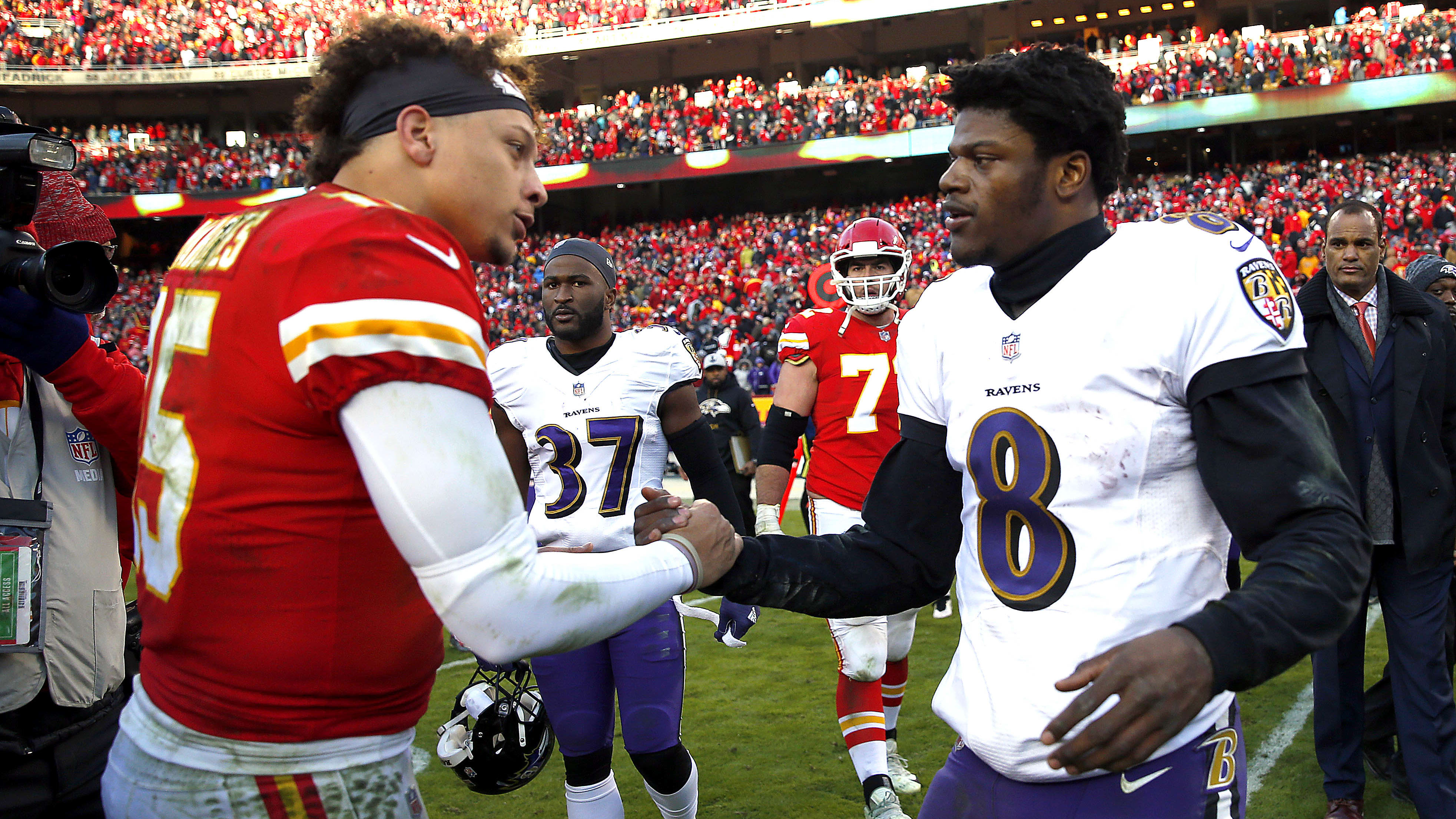 For the first time ever, the first three quarterbacks taken in the draft were African-American. Now more than ever, the premier position in the NFL is being dominated by African-American quarterbacks. What do you think has led to this shift over the last five or six years?
Yeah, I think it started years ago with Doug Williams, and Warren Moon and Randall Cunninghamshowing that African-American players could play the quarterback position at a very high level. And then you saw Russell Wilson, you saw Michael Vick come in and do the same thing. And I think now that you're just seeing that the African-American quarterbacks are getting more chances, more chances to show who they are at the quarterback position. I think it's really cool. Because now you can't get pinned into a box. I remember even when I was growing up, it's like, he played great quarterback in college but he's going to play receiver or something else in the NFL. Now it's like, let's see, this guy, he's a great player in college, let's let him be a great player in the NFL. Now you're seeing that the African-American quarterback has really even taken the position to a new level.
When you think back to the two Super Bowls you've won against the Eagles and the 49ers, how do you think about them differently? Was one game harder than the other? When you reflect back on them, how do you separate the two?
I wouldn't say that one was harder than the other. Both teams were great teams that played in the Super Bowl. Three of the Super Bowl teams we played against were great football teams. I think this last one, after winning one and losing one, I kind of knew what to expect. And during the game, even when we were down, it wasn't like I was panicking. We needed to score right this second. It's like you just have an urgency that, "Alright, that's not going our way, but we can flip the script. We just gotta keep pushing and keep doing things the right way." I think that's the experience that you get throughout those big games that you play in. But it's been cool, man. We won with a very young team and I'm excited for the future of the Kansas City Chiefs, man. I think we have a chance to go out there and continue this run that we've been on.
TERENCE CRAWFORD: MILLION DOLLAZ WORTH OF GAME EPISODE 221
Today we sit down with the legendary Terence "Bud" Crawford, an iconic figure in the world of professional boxing and one of the most talented and accomplished fighters of our time. Terence shares his extraordinary journey from humble beginnings to becoming a boxing superstar. We also had to get all the inside scoop on upcoming fights, stolen fights, and who's really the greatest pound-for-pound boxer in the game. PRESENTING SPONSORS Omega Accounting Solutions Apply Today To Attend MDWOG Small Business Event at WWW.MDWOGSMALLBIZ.COM Dodge The All-New Dodge Hornet. Build Yours at https://barstool.link/DodgeBSS Barstool Sportsbook The Barstool Sportsbook is now offering a 1000-dollar Bonus for new players: if your 1st bet loses, get up to 1000-dollars in bonus cash. So download and create an account today, use code GILLIE to unlock your 1000-dollar Bonus. Be sure to use code GILLIE to unlock your 1000-dollar Bonus.
D'Angelo Russell is one of the many questions that must be answered during the Lakers' offseason. Russell, who is coming to the end of a four-year, $117,325,500 contract, is eligible to sign a two-year, $67.5 million extension before June 30. Russell averaged 17.8 points, 3.0 rebounds, and 6.2 assists per game. However, he is just one of many questions for the Lakers. They have a number of pending free agents, as well as the possibility of LeBron's retirement.
Another source of free agency speculation is Kyrie Irving. The 31-year-old is set to explore the market after speculation that the Mavericks would not be re-upping after a few months of the Kyrie-Luka experiment began to emerge. While the Lakers have publicly waved off interest in Kyrie, they remain a popular candidate to acquire his services. However, the offseason is still in its infancy. Despite this, former NBA star and current analyst Jalen Rose believe that the team sent both players a message about their intentions during the playoffs.
The Knicks Need to Move On From Tom Thibodeau & Julius Randle
The Knicks Need to Move On From Tom Thibodeau & Julius Randle
Knicks fans — take a deep breath. Yes, we just crashed out of the playoffs against the No. 8 seed Miami Heat. We fell flat on our face. All the memes and taunts will be undoubtedly flowing out across social media for the next few days. But I'm here to tell you, as a fellow Knicks fan, give yourself, and this team, a little grace. For the sake of our mental health, we need to follow Giannis' recent comments: This season was not an utter failure.
We started the year under the long shadow of the Donovan Mitchell trade, the big signing of Jalen Brunson, and a mediocre year last season. We also got off to slow start this year, sitting in 10th place at 10-13 at one point. But we turned it around and finished 5th to avoid the Play-In all together. We exorcized our first round demons, upsetting the very Cavaliers that Mitchell now plays for, and progressed to the second round for the first time since 2013. And not to mention, this is our second postseason appearance in 3 years, a feat we haven't pulled off since 2013 as well.