NBA Metrics 101: Top Trade Heists of the Past Decade
Deron Williams' face says it all.
Sometimes, an NBA team makes a blockbuster trade, operating under the faulty assumption it's swindled another organization and is one step closer to achieving its goals. But reality quickly shatters that facade, revealing the deal as a heist for the other franchise.
We've seen swindles throughout league history, though they are not always labeled as such until post-hoc developments years later. And fortunately, we get to operate with the benefit of hindsight as we run through some of the past decade's most notable misfires—picked in subjective fashion to limit the objective impact of many confounding factors.
Here's hoping your favorite team doesn't do anything dumb leading up to Thursday's trade deadline that will place it in a future iteration of this article.
To be clear, we're only worried about direct impact, not any subsequent moves involving the players. Teams might have engaged in secondary deals that shipped off acquired draft picks, but those will be irrelevant to the order of these 10 notable trades.
For that order, we're looking at the win-share differential between all involved players, though only the win shares accrued for the franchise in question factor into the analysis. These differentials are all that matter here.
Honorable Mention: Chicago Bulls Get Money-Hungry (2.2-Win Share Differential)
1 of 11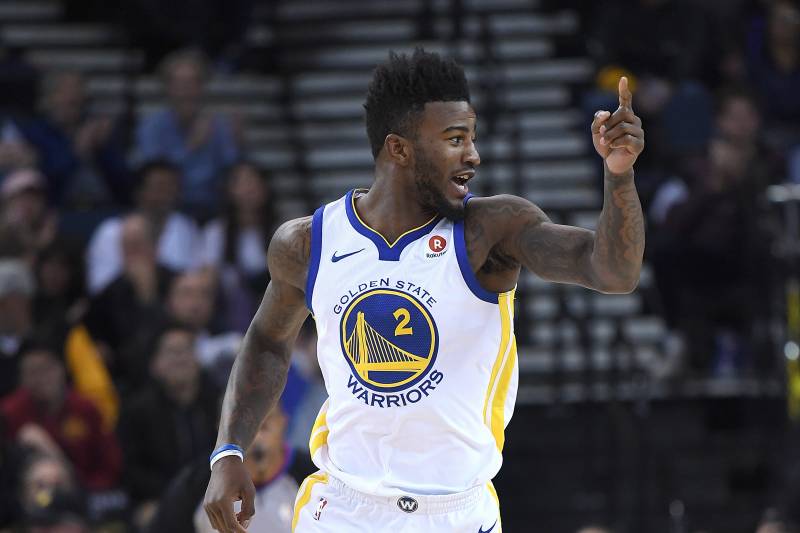 Thearon W. Henderson/Getty Images
Chicago Bulls Get: $3.5 million
Golden State Warriors Get: Jordan Bell
We're admittedly jumping the gun here, but that's why this shortsighted move finds a home as an honorable mention. If Jordan Bell's hot start proves fluky, the Chicago Bulls will breathe easy.
But for now, this deserves all the "cash considerations" jokes you can muster.
Bell, prior to suffering from recent ankle inflammation, was emerging as a legitimate part of the Golden State Warriors' frontcourt rotation. The rookie's defensive switchability and high-flying offensive habits had endeared him to head coach Steve Kerr, and he rarely made mistakes on either end of the floor. Plus, the advanced metrics love him.
Even with a mere 38 games under his belt, his 56.94 total points added trail only Ben Simmons' 95.77 among rookies, per NBA Math. Despite his injury and limited minutes (14.4 per game), he's been so efficient that he sits at No. 45 overall, directly ahead of Robert Covington, Thaddeus Young and Trevor Ariza. ESPN.com's real plus/minus hands him the NBA's No. 28 spot—sandwiched between Kyrie Irving and Paul George.
Decent company.
Is this sustainable? Are we looking at a flash in the pan who's benefiting from a system that can maximize his talents? We'll find out soon enough.
But for now, each dunk or block will compound Chicago's agony, especially because it sold off a high-upside second-round pick for cash when it was entering a rebuild. Most organizations would've taken the flier, hoping for a draft-day gem who could expedite the growing process.
10. 2 Words: Billy King (2.7-Win Share Differential)
2 of 11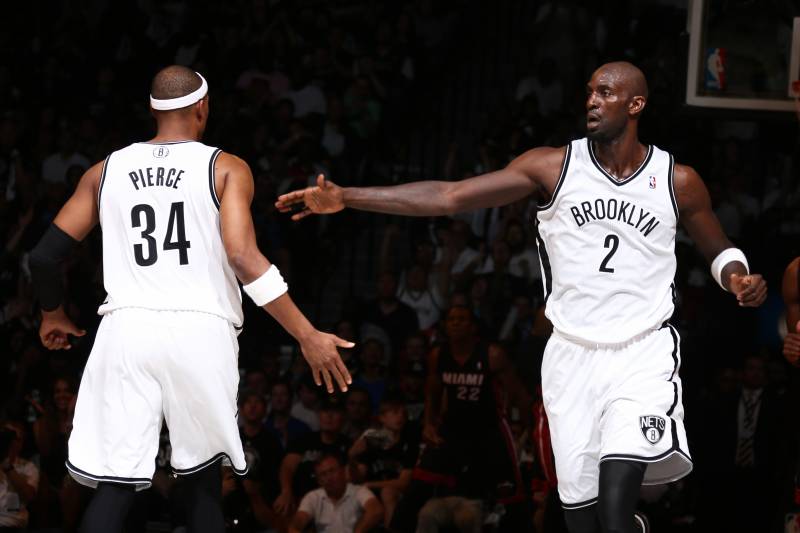 Nathaniel S. Butler/Getty Images
Brooklyn Nets Get: Kevin Garnett (2.8 WS), Paul Pierce (5.2 WS), Jason Terry (0.2 WS), DJ White (N/A), 2017 first-round swap that became Kyle Kuzma (N/A), 2017 second-round pick that became Aleksandar Vezenkov (N/A)
Boston Celtics Get: Keith Bogans (0.1 WS), MarShon Brooks (0.0 WS), Kris Humphries (4.1 WS), Kris Joseph (N/A), Gerald Wallace (1.3 WS), 2014 first-round pick that became James Young (0.7 WS), 2016 first-round pick that became Jaylen Brown (4.7 WS), 2017 first-round swap rights that became Markelle Fultz (N/A), 2018 first-round pick (unprotected)
This July 2013 deal was far worse than the above numbers indicate because of the long-term impact the move had on each franchise's direction.
The Brooklyn Nets thought they were compiling a veteran-laden, championship-caliber squad by acquiring Kevin Garnett and Paul Pierce. And they were willing to mortgage their future to do so. But the ex-Boston Celtics barely spent any time in the Big Apple, and the only tangible reward was a Game 7 victory against the Toronto Raptors in the 2014 playoffs' opening round.
Pierce was gone before the next season's first-round exit, and then the Nets plunged toward futility. They couldn't acquire young players thanks to a dearth of lottery selections and a payroll that left them near the luxury-tax line. They're still dealing with the ramifications, attempting to take on albatross salaries as their only realistic method of acquiring talent. And they still owe another unprotected first-round pick.
As for the Celtics, the numbers don't work in their favor nearly as much as they should (10.9 win shares to 8.2). They parlayed that 2017 first-round pick into Jayson Tatum and another opening-round selection via the Markelle Fultz trade. And they sent Brooklyn's 2018 pick to Cleveland in the swap to get Kyrie Irving.
Jaylen Brown is still developing, and the Celtics' ability to grow so much cheap talent internally has allowed them to make runs at players such as Gordon Hayward and Al Horford.
Don't let the close win-share tallies fool you. This was a straight-up rip-off.
9. All-In for Andrea Bargnani (3.8)
3 of 11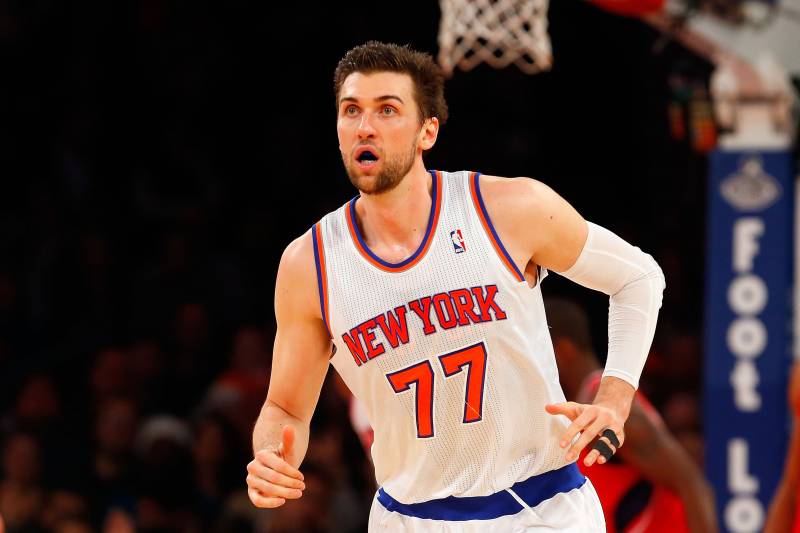 Jim McIsaac/Getty Images
New York Knicks Get: Andrea Bargnani (2.5 WS)
Toronto Raptors Get: Marcus Camby (N/A), Steve Novak (1.4 WS), Quentin Richardson (N/A), 2014 second-round pick that became Xavier Thames (N/A), 2016 first-round pick that became Jakob Poeltl (4.9 WS), 2017 second-round pick that became Jonah Bolden (N/A)
Had the Toronto Raptors hit on either of their second-round picks (the jury is still out on Jonah Bolden, but #WeTheNorth traded him and Steve Novak to the Utah Jazz for Diante Garrett), the disparity would've grown. Still, it should be telling that second-year center Jakob Poeltl has already provided nearly twice as much value as Andrea Bargnani.
Poeltl has become a key piece for Toronto's second unit this season, thriving on both ends as he averages 6.8 points, 4.7 rebounds, 0.5 assists, 0.4 steals and 1.2 blocks per game while shooting 64.0 percent from the field. On the flip side, Bargnani, the No. 1 overall pick in the 2006 draft, spent just 71 games with the New York Knicks over two seasons.
By the time he left for the Brooklyn Nets in free agency—a decision that ushered in the final season of his career—he was averaging just 13.9 points, 4.9 rebounds and 1.3 assists during his Knicks tenure. Problematically, those numbers came while he played atrocious defense and slashed 44.7/30.2/81.8—horrible shooting splits for a player billed as a stretch big.
Even if this July 2013 swap had just been Poeltl for Bargnani, the Raptors would have won.
8. That's All for DeMarcus Cousins? (3.8)
4 of 11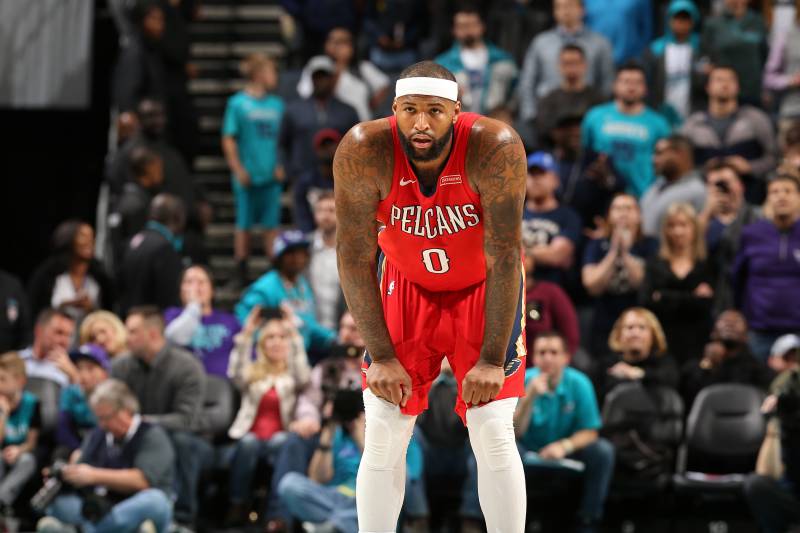 Kent Smith/Getty Images
Sacramento Kings Get: Tyreke Evans (0.2 WS), Langston Galloway (0.1 WS), Buddy Hield (2.2 WS), 2017 first-round pick that became Zach Collins (N/A), 2017 second-round pick that became Frank Mason (0.1 WS)
New Orleans Pelicans Get: Omri Casspi (0.0 WS), DeMarcus Cousins (6.4 WS)
This February 2017 deal still feels like a heist.
Tyreke Evans played only a handful of games for the Sacramento Kings before leaving for the Memphis Grizzlies in free agency. Ditto for Langston Galloway, except he joined the Detroit Pistons.
Buddy Hield is a tremendous three-point marksman, but the rest of his game has been far slower to develop, and the sophomore is playing only 24 minutes per contest. Frank Mason impressed for 29 games before a partial tear of the plantar fasciitis tendon in his right heel sidelined him, and the pick that became Zach Collins was conveyed to the Portland Trail Blazers for Harry Giles (won't debut until 2018-19) and Justin Jackson (struggling on both ends as a rookie).
Meanwhile, DeMarcus Cousins had emerged as a top-10 force for the New Orleans Pelicans prior to his season-ending Achilles injury Jan. 26. He was thriving alongside Anthony Davis and pushing his squad into the Western Conference playoff picture while the Kings were playing like the Association's worst team. (Sacramento's minus-9.4 net rating is dead last with room to spare).
But everything could still change. What if Cousins' injury curtails his momentum to such an extreme that he seeks a fresh start with a new organization in free agency? What if Hield blossoms into an All-Star and Giles becomes an impact contributor?
Though it feels unlikely that Sacramento could emerge as a retroactive winner, that's technically still possible.
7. The Rajon Rondo Disaster (5.5)
5 of 11
Glenn James/Getty Images
Dallas Mavericks Get: Dwight Powell (11.7 WS), Rajon Rondo (0.6 WS)
Boston Celtics Get: Jae Crowder (17.3 WS), Jameer Nelson (0.0 WS), Brandan Wright (0.2 WS), 2016 first-round pick that became Guerschon Yabusele (0.2 WS), 2016 second-round pick that became Demetrius Jackson (0.1 WS)
Not only was Jae Crowder the best player involved in this transaction (note: We're only talking about what happened after the move, so this shouldn't be viewed as a slight toward Rajon Rondo's career with the Boston Celtics), but he would also soon ink a five-year, $35 million extension with Beantown. That would make him one of the NBA's best bargains, open the door for Boston's overtures to marquee free agents and help facilitate the Kyrie Irving swap this past summer.
Nonetheless, Crowder isn't the most notable part of this December 2014 trade. Nor is Dwight Powell, even though he became a valuable role player for the Dallas Mavericks and drastically outpaced Rondo's contributions.
Rondo, thanks to his facilitating and defense, remained a viable presence during 46 regular-season games in a Dallas uniform. Then everything fell apart in a first-round playoff series against the Houston Rockets, to the point that the team dismissed him (a move sold as a back injury) after clashes with head coach Rick Carlisle and an infectiously poor attitude, per ESPN.com's Tim MacMahon.
"It's unequivocally naive, then, to blame all this on the Rondo trade alone. But it's most definitely a primary symptom of Dallas' situation," Bleacher Report's Dan Favale wrote in the summer of 2015, attempting to find a reason behind the Mavericks' plunge into unabashed mediocrity.
"The assets they gave up, insignificant though they appeared, were commodities the Mavericks could have turned into another midseason acquisition, used to rebound from [DeAndre] Jordan's indecision or, similarly important, kept for themselves."
6. Deron Williams Backfires (25.2)
6 of 11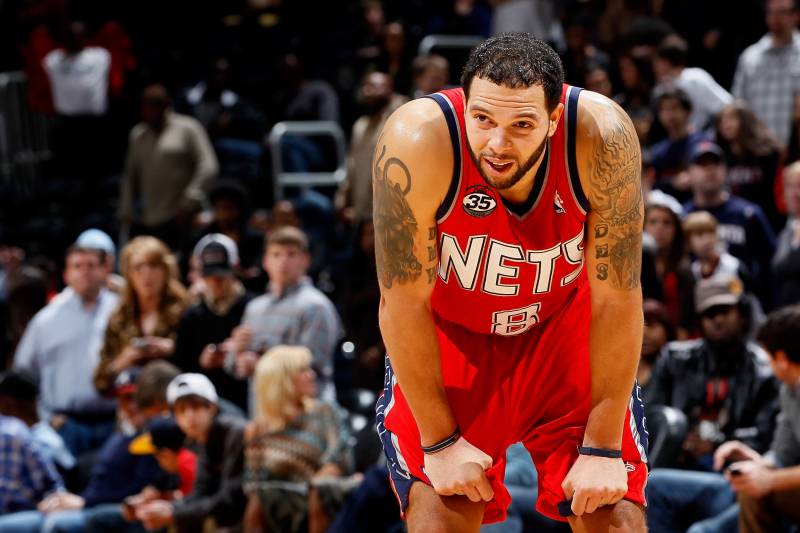 Kevin C. Cox/Getty Images
New Jersey Nets Get: Deron Williams (24.6 WS)
Utah Jazz Get: Derrick Favors (36.0 WS), Devin Harris (4.9 WS), 2011 first-round pick that became Enes Kanter (8.9 WS), 2013 first-round pick that became Gorgui Dieng (N/A)
This trade was agreed to on February 23, 2011. But let's fast-forward a few years, jumping out of our time machine on July 11, 2015.
Where were all the involved pieces on that particular date?
Deron Williams wasn't in great shape given that's the day the Brooklyn Nets waived him. He had quickly fallen from grace, failing to build upon an All-Star appearance during his first full season with the then-New Jersey-based franchise. He submitted a few strong seasons, but his knees were beginning to betray him, and he couldn't stay healthy and effective for lengthy stretches.
Derrick Favors, meanwhile, was coming off what was then the best season of his career, one in which he averaged 16.0 points and 8.2 rebounds per game while shooting 52.5 percent from the field. He would grow even more effective during the following campaign, and he remains in Salt Lake City (though his name has come up in trade rumors this season).
Devin Harris had moved on to the Atlanta Hawks and Dallas Mavericks, but not before a year and a half of solid offensive basketball for the Utah Jazz. Though Enes Kanter had just been traded to the Oklahoma City Thunder in a three-team deal, he'd already established himself as a strong offensive rebounder and creative interior finisher. Finally, the 2013 first-round pick that turned into Gorgui Dieng went to the Minnesota Timberwolves (along with Shabazz Muhammad) for Trey Burke, who didn't pan out.
Still, while no team emerged with long-term superstars, Favors' longevity worked out nicely. He alone pushes the Jazz into the winners' column—a rarity for a team giving up the established stud and taking back a bunch of unproven commodities.
5. Wait…You Gave Up James Harden?! (36.9)
7 of 11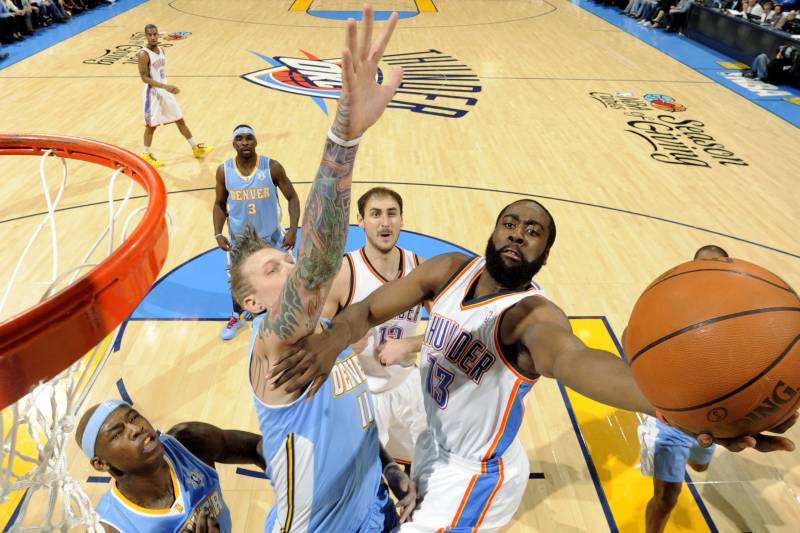 Larry W. Smith/Getty Images
Oklahoma City Thunder Get: Jeremy Lamb (5.1 WS), Kevin Martin (7.0 WS), 2013 first-round pick that became Steven Adams (26.5 WS), 2014 first-round pick that became Mitch McGary (1.3 WS), 2013 second-round pick that became Alex Abrines (3.5 WS)
Houston Rockets Get: Cole Aldrich (0.2 WS), Daequan Cook (0.1 WS), James Harden (80.0 WS), Lazar Hayward (N/A)
Has any trade been relitigated more frequently than the James Harden blockbuster that broke up the Oklahoma City Thunder's Big Three? Seriously, just type this swap into the search engine of your preference, and you will be inundated with results—many of which come to similar conclusions.
We won't disagree with the consensus, largely because superstars are the NBA's most valuable commodity. Getting one is vital to title contention. Losing one is painful in every circumstance. Trading one away to pay for Serge Ibaka's extension while getting back role players and Steven Adams is more painful still.
Harden is the only piece that matters here. He's developed into a yearly MVP candidate for the Houston Rockets since they acquired him in October 2012 and may be the front-runner this season. Basketball Reference's NBA MVP Award Tracker gives him a 61.9 percent chance at the award, placing him well ahead of No. 2 Stephen Curry (16.7 percent).
While Harden's throwing up 60-point triple-doubles, Adams and Alex Abrines are the only members of this trade still suiting up for the Thunder. And that's just not the same as the player who has added 80 win shares to the Rockets' cause since the start of the 2012-13 campaign—tied with LeBron James for the league lead over that span.
4. Gotta Get Rid of Baron Davis (44.1)
8 of 11
Gary Dineen/Getty Images
Cleveland Cavaliers Get: Baron Davis (0.7 WS), 2011 first-round pick that became Kyrie Irving (47.7 WS)
Los Angeles Clippers Get: Jamario Moon (0.4 WS), Mo Williams (3.9 WS)
The Los Angeles Clippers had no idea their unprotected first-round pick would turn into Kyrie Irving. But that shouldn't matter since they attached an unprotected first-round pick just to slough off an unpalatable salary.
Baron Davis had two years and nearly $28 million remaining on his albatross contract, and he was averaging only 12.8 points, 2.8 rebounds and 7.0 assists per game for LAC while shooting 41.6 percent from the field and 29.6 percent from downtown. But that was still a steep price just to part with him, even if the Clippers believed in Mo Williams.

As it turns out, they did.
General manager Neil Olshey explained as much to ESPN.com's Ramona Shelburne and Chad Ford, though his reasoning fell a bit flat. Williams might have been an All-Star in 2009. But this was February 2011, and the point guard had clearly been trending in the wrong direction:
"The drill is, as always, is 'Is the player you're getting back more valuable than the potential you could get in the draft?' Our analysis at this point in February is that it was more valuable to get a 28-year-old All-Star point guard that we have for the next few years, cap flexibility to make sure we take care of business and re-sign DeAndre Jordan and have flexibility to take care of Eric Gordon as well, as opposed to speculating on another kid that's 19 years old with one year of college experience. And I'm not that high on the draft to begin with this year."
To Olshey's credit, he was right about the 2011 draft class. Though players such as Klay Thompson and Kawhi Leonard helped redeem the overall collection, they were taken outside the top 10 and were never viewed as top-five prospects.
In fact, the first 10 players off the board were, in reverse order, Jimmer Fredette, Kemba Walker, Brandon Knight, Bismack Biyombo, Jan Vesely, Jonas Valanciunas, Tristan Thompson, Enes Kanter, Derrick Williams and the pick that went to the Cleveland Cavaliers as recompense for taking on the Davis expenditures.
Unfortunately for Los Angeles, that was Irving.
3. When You Can Get Gerald Wallace, You Get Gerald Wallace (48)
9 of 11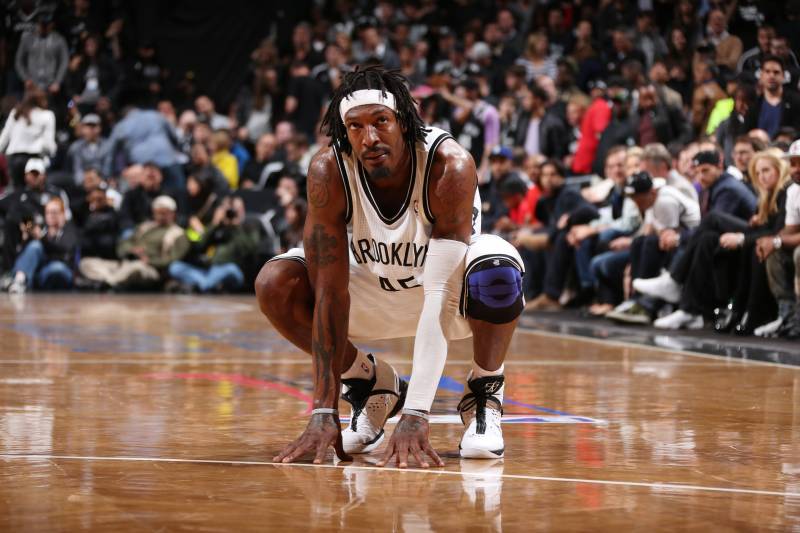 Nathaniel S. Butler/Getty Images
New Jersey Nets Get: Gerald Wallace (4.5 WS)
Portland Trail Blazers Get: Mehmet Okur (N/A), Shawne Williams (N/A), 2012 first-round pick that became Damian Lillard (52.5 WS)
During Gerald Wallace's 85 games with the New Jersey/Brooklyn Nets, he averaged 9.1 points, 5.0 rebounds, 2.7 assists, 1.4 steals and 0.7 blocks while shooting 40.3 percent from the field and 30.7 percent from downtown. Though he added a handful of win shares, the rest of his advanced metrics weren't particularly kind.
His player-efficiency rating was poor (12.8). Offensive box plus/minus shows he canceled out some of his defensive value with his inability to provide consistent scoring or distributing. So on and so forth as Brooklyn failed to advance out of the postseason's opening round during his only full season with the squad.
This would be fine if the Portland Trail Blazers only received Mehmet Okur and Shawne Williams for Wallace's services in the March 2012 swap, since neither man ever suited up for Rip City. But the Blazers also got their hands on a first-round pick that was only protected for the top three selections.
And that became Damian Lillard. You know, the All-Star point guard who's turned into one of basketball's deadliest offensive commodities while serving as a franchise centerpiece. The one averaging 22.7 points and 6.2 assists per game throughout his career.
As Amin Elhassan wrote for ESPN.com in 2013 while ranking the top deadline deals since 2008, "Portland was able to take advantage of another team's thirst to further its rebuilding efforts. By trading Wallace to the Nets (who were desperately seeking to appease Williams while trying to acquire Dwight Howard), the Blazers were able to acquire a top-three protected pick in a fairly deep draft…"
Mission successful. For Portland, at least.
2. Getting Kyle Lowry for Cheap (51.9)
10 of 11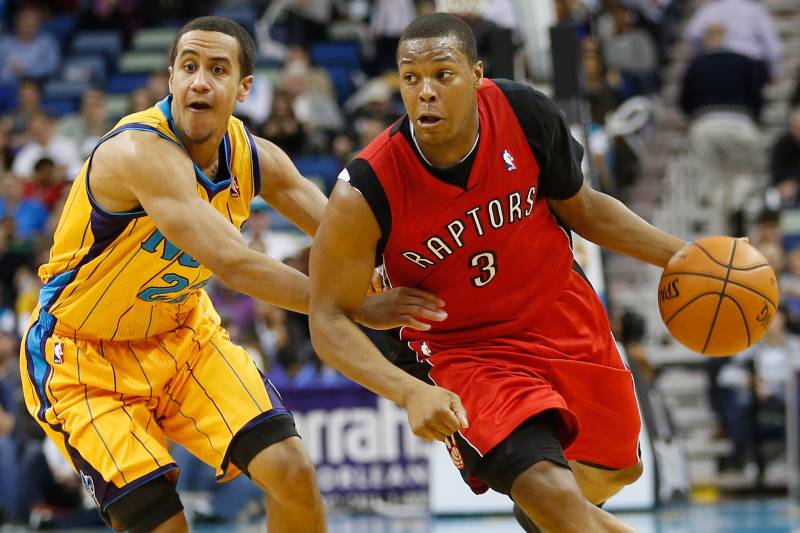 Chris Graythen/Getty Images
Houston Rockets Get: Gary Forbes (N/A), 2013 first-round pick that became Steven Adams (N/A)
Toronto Raptors Get: Kyle Lowry (51.9 WS)
In the Houston Rockets' defense, they had no idea Kyle Lowry would become a late-blooming All-Star for the Toronto Raptors, morphing into one of the game's deadliest players later. They just knew he didn't always get along with the coaching staff and was far from the realm of elites.
During the 2011-12 season (the one right before he was dealt to the NBA's Canadian representatives), Lowry averaged a career-best 14.3 points, 4.5 rebounds, 6.6 assists and 1.6 steals per game while shooting 40.9 percent from the field and 37.4 percent from downtown.
He was good. He wasn't great.
But he became great in Toronto—a statement that shouldn't be denied even if you're in the camp that believes (erroneously, I should add) DeMar DeRozan has been the Raptors' most valuable player during the last few go-arounds. The floor general has three more All-Star appearances than the Rockets' combined return has games played for Houston.
Houston waived Gary Forbes before the start of the 2012-13 campaign, and he'd never again play in the NBA. The first-round pick that became Steven Adams doesn't yield results in our analysis, but it was at least included in the trade that landed James Harden.
That's the one saving grace for Houston.
1. Chris Paul on the Move, Take 2 (60.3)
11 of 11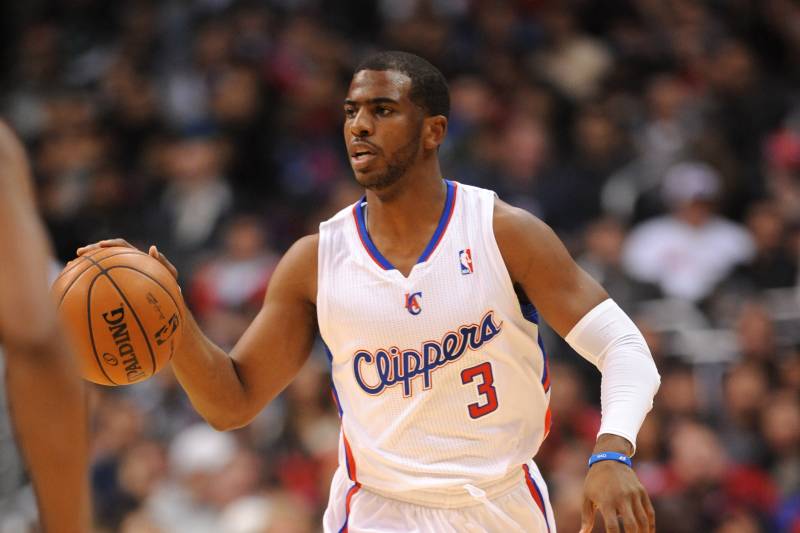 Noah Graham/Getty Images
New Orleans Hornets Get: Al-Farouq Aminu (7.6 WS), Eric Gordon (9.4 WS), Chris Kaman (0.7 WS), 2012 first-round pick that became Austin Rivers (0.2 WS)
Los Angeles Clippers Get: Chris Paul (78.2 WS), 2015 second-round pick that became Arturas Gudaitis (N/A)
If it could go wrong for the New Orleans Hornets, it did. And no, that's not just because Chris Paul continued to serve as the NBA's resident Point God throughout his time with the Los Angeles Clippers after this December 2011 trade.
First, the league office vetoed the Hornets' initial move involving Paul. Here it is in its entirety, as reported by Marc Stein, then of ESPN.com:
"The proposed trade would have sent Paul to the Lakers, Pau Gasol to the Rockets and furnished New Orleans with three top-flight NBA players in Kevin Martin, Luis Scola and Lamar Odom as well as playoff-tested guard Goran Dragic and a 2012 first-round pick that Houston had acquired from the Knicks. The general reaction among rival executives was that Hornets general manager Dell Demps did as well as he could under the circumstances after Paul told the Hornets on Monday he would not sign a contract extension this season and instead planned to become a free agent July 1, 2012."
In retrospect, this might have been preferable.
Kevin Martin averaged 17.1 points while slashing 43.2/39.3/88.9 over the next four years. Luis Scola continued to serve as an effective role player in the immediate aftermath of this PR disaster. Lamar Odom's career would soon spiral out of control, though there's no telling how events might have proceeded if he hadn't needed to deal with the emotions of being traded and un-traded. Goran Dragic was a relative non-factor for the Houston Rockets at the time, but he'd quickly develop into one of the league's most underrated commodities upon transitioning to the Phoenix Suns.
Oh, and that first-round pick? It fell at No. 16 and didn't necessarily have to become Royce White, since the Hornets likely wouldn't have doubled-down on the point-forward mold with Odom already in the fold.
Instead, the Pelicans wound up with Al-Farouq Aminu (three seasons as a defensive role player who held back the offense), Eric Gordon (knee issues limited him to a combined 51 games in his first two seasons with the organization), Chris Kaman (left for the Dallas Mavericks after one go-around) and a massive bust in Austin Rivers, who wouldn't become a useful rotation player until leaving the bayou.
Whoops.