Derrick Rose
As Kyrie Irving Moves On from LeBron, Derrick Rose Nabs His Seat Beside the King
Kyrie Irving wants out of LeBron James' shadow. Derrick Rose is tired of being in the sun.
While Irving recently asked the Cleveland Cavaliers to trade him, Rose has agreed to come play with James and the Cavs for the veteran's minimum of $2.1 million, per Shams Charania of The Vertical.
How does James feel about the move? Let's turn to the man himself:
Rose gives the Cavs a potential replacement at point guard for Irving, should Cleveland deal its incumbent starter before the 2017-18 NBAseason. The 28-year-old and James, who combined for five consecutive MVP awards between 2009 and 2013, have been has been in contact throughout the free-agency process, per ESPN.com's Adrian Wojnarowski.
James has apparently moved on from Irving, and is now "eager to see him off," according to Joe Vardon of Cleveland.com.
Clearly, Rose and Irving are on different paths.
Irving wants what Rose had: To be the face of a franchise, carry his team to the playoffs and not have to worry about what his co-star will do in free agency year after year. A chance to be The Man is something Irving got a taste of with the Cavs from ages 19-22 before James returned.
Rose, who as recently as this past winter still had dreams of signing a $150 million max contract, now covets the space Irving is departing for a small fraction of that amount. To him, it's worth it.
He has been the face of a franchise and has enjoyed the highs and suffered the lows of it. Despite enduring numerous knee surgeries, Rose took the Bulls to the postseason five times, made three All-Star games and was an All-NBA selection to go along with his MVP award in 2011. He's made over $116 million in the process and could make a lot more if this season goes as planned.
On top of the limitations of Rose's body, there's always been one other devastating road block: the King he now calls his new teammate.
Jason Miller/Getty Images
James has sent many home disappointed in the postseason, and Rose has been his victim more times than he'd like to remember.
Between 2010 and 2015, Rose faced James and the Cavs or Heat three times. James won every single series with an overall game advantage of 12-4. Rose was everything then that Irving now longs to be: a superstar player surrounded by talented teammates, but none whom he'd have to share the spotlight with. It's a role that may be admirable, but one that's guaranteed to enjoy a longer summer break.
According to Charania, "For years, Rose competed against James, but both sides share mutual respect and admiration, and a strong desire in a partnership that neither expected but have now welcomed."
As Irving runs from James, Rose knows his former adversary is his best chance at a career resurrection. James is perhaps one of the NBA history's most unselfish stars, eager to get teammates involved at the expense of his own scoring. Role players Timofey Mozgov and Matthew Dellavedova signed over $100 million worth of contracts after playing with James. As Howard Beck of Bleacher Report wrote:
"Indeed, amazing things happen when you join Team LeBron. Images are rehabilitated. Resumes are enhanced. Legends are made.
"Chris Bosh becomes a Hall of Famer. Chris Andersen and Matthew Dellavedova become folk heroes. Richard Jefferson and Rashard Lewis become champions. Mo Williams becomes an All-Star. Boobie Gibson becomes a household name.
"How many careers have been made by James over the last decade? A dozen? Two dozen? Fifty?
"It's good to be in the king's court."
By signing for the minimum to come to Cleveland and passing on the Los Angeles Lakers, Milwaukee Bucks and Chicago Bulls, Rose is likely making a financial sacrifice to join James' court. It's an investment in himself.
Rose has battled injuries, early playoff exits and off-court troubles including his disappearance from the Knicks last season. But teaming with James gives him the potential to polish his reputation and set him up for a big pay day. Just ask J.R. Smith.
This isn't to say Rose won't have to earn his way back. Averaging 18.0 points on 47.1 percent shooting with the Knicks was encouraging, but New York was better with Rose on the bench, especially defensively.
Putting up hollow numbers on a 31-win Knicks team is one thing. Potentially starting in an NBA Finals alongside James is another.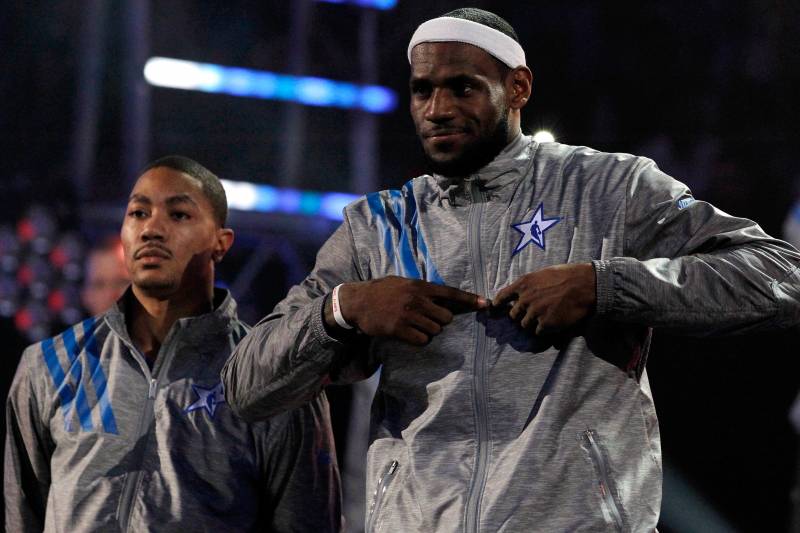 Ronald Martinez/Getty Images
According to The Vertical, Rose is open to starting or coming off the bench, whatever the Cavs feel is best. The answer to this is naturally dependent on what Cleveland can get back in an Irving trade.
Getting a star point guard back isn't necessarily a must. Assuming Irving is traded, the Cavs would have Rose, Jose Calderon and Kay Felder at point guard with James also serving as a primary ball-handler.
Cleveland has endured a chaotic summer with the dismissal of general manager David Griffin, the inability to deal for Jimmy Butler or Paul Georgeand now, Irving's trade request. The signing of Rose only adds another entertaining layer to the never-ending saga of James' career arc.
As one rising star begins his peculiar path of deserting James and an annual trip to the Finals, another former one appears more than happy to take his spot.
Greg Swartz is the Cleveland Cavaliers' lead writer for Bleacher Report. Stats provided by NBA.com and Basketball-Reference.com unless otherwise noted.
ALSO CHECK OUT /// HARDEN: MELO WOULD HELP ROCKETS TREMENDOUSLY