For the past two years, Complex Sports has ranked the each of the 30 team Twitter accounts in the NBA from worst to first. In the most social media savvy professional sports league in the world, the competition for online supremacy is fierce. This year, the field is stronger than ever, as more and more formerly lagging teams have stepped up and begun to actually try to do more than just dump ticket links.
In both 2015 and 2016, the Portland Trail Blazers took top honors. Will they three-peat this year? Will the Celtics earn the dubious honor of being ranked dead last once again? Will the presence of Joel Embiid lift @Sixers from its No. 6 perch last year through sheer social media osmosis? Without further ado, here are the 2017 NBA Twitter Rankings…
30. Oklahoma City Thunder (@okcthunder)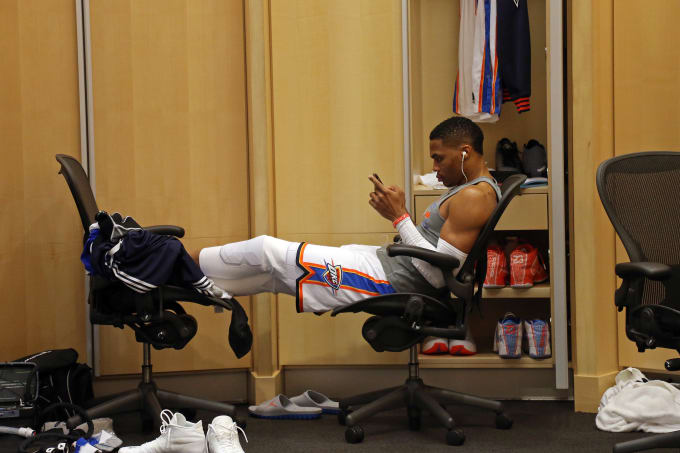 Followers: 1.8 million
🔥 tweet:
Oh god. Where to even begin…Imagine what it would look like if your dad won a contest and the grand prize was that he would get to take over an NBA team's social media accounts for a game. That's @okcthunder every single night. From lame and played out platitudes, to incorrectly used emojis, to #SuperLongHashtagsThatLookLikeThis, the Thunder are brutal on Twitter. And it's really a shame. They've got one of the most exciting players in the NBA, a dude whose nonstop motor and eclectic sense of fashion make him a social media manager's dream, and this is the weak stuff they come with…
29. Boston Celtics (@celtics)
Followers: 2.3 million
🔥 tweet:
Last year, the Celtics ranked 30th on our list. The year before, it was No. 27. And now, it's No. 29. Ouch…Boston's Twitter presence has been trash for a long time, mainly due to their complete aversion to anything fun, unique, or even the slightest bit risqué. But recently they've begun to branch out into the world of memes, and it's clear they've got a lot of catching up to do…
Look, we don't expect you to go from every uncle's Facebook account to dropping fresh memes on the regular, but Success Kid? Really?
28. New York Knicks (@NYKnicks)
Followers: 1.78 milion
🔥 tweet:
Knicks Twitter is the equivalent of the No Fun League. They are completely oblivious to having a good time by way of trolling, being funny, and everything else that makes a Twitter account good. They post cool pics and vids from time-to-time, but when your team wins 31 games, cool pics and vids during losses ain't a good look. Knicks Twitter sucks ass. Look at what they retweeted after millions of people saw Charles Oakley get manhandled by Garden security:
27. Brooklyn Nets (@BrooklynNets)
Followers: 755K
🔥 tweet:
We don't really have anything all that terrible to say about Brooklyn. With the team lacking both current stars around whom to construct a winning roster and the assets to at least capitalize on their tanking through the draft, tweeting for the Nets might just be the hardest job in the NBA. That said, we feel kind of bad dumping on them here. However…the Nets' account is just, well, kinda boring:
A couple years ago, this account probably would have finished right smack dab in the middle of the pack. But as more and more teams step up their Twitter games, the ones that continue to use the platform the way they did in 2015 will be left in the dust.
26. New Orleans Pelicans (@PelicansNBA)
Followers: 659K
🔥​ tweet:
Way too many promos. Not enough Boogie. If you asked us, we'd prefer this feed be dedicated entirely to DeMarcus Cousins. But alas, the Pelicans must cover the rest of the roster—although Anthony Davis does some funny things—and what happens during their games/failed run at the postseason. Props for giving fans a compilation of the best dunks of the season they could view on their timeline and not have to click out. Just cut down on the branded content and post more fire featuring Boogie, OK?
25. Indiana Pacers (@Pacers)
Followers: 930K
🔥 tweet:
Much like with the Brooklyn Nets, we feel bad knocking @Pacers. Sure, the account is a bit dry, and sure they don't really tweet outside the box much, but with a sorta-.500 roster and a superstar who is not so privately indicating that he wants to leave town, it's a tough product to sell. Also, we have empathy for anyone whose job it is to make Al Jefferson seem interesting:
24. Orlando Magic (@OrlandoMagic)
Followers: 1.5 million
🔥​ tweet:
Finding a fire tweet from this account is difficult. It seems like Orlando is trying to sprinkle a little Disney magic on the TL, because there's an awful lot of this fuzzy mascot thing.
The kid doesn't look too happy. Followers of this feed shouldn't be, either.
23. Minnesota Timberwolves (@Timberwolves)
Followers: 645K
🔥 tweet:
In the NBA Twittersphere, there are three types of teams: the ones that drop heat on a nightly basis, the ones that attempt to do that so usually come up short, and the ones that don't really seem to try at all. A couple years back, the Timberwolves fit somewhere in the space between those first two groups. But last year, after having their primary fire-tweeter poached by the Sacramento Kings, they fell to No. 19 on our list. And this year, they landed at No. 23, a sign of the league-wide improvement we've seen this past season more than anything else. There's absolutely nothing wrong with @Timberwolves. But for a team that has two of the best and most dynamic young players in the NBA in Karl-Anthony Towns and Andrew Wiggins, it's a bit disappointing that Minnesota's Twitter doesn't do their play justice.
22. Miami Heat (@MiamiHEAT)
Followers: 4.09 million
🔥 tweet:
Heat Twitter is pretty much par for the course. They give their four million-plus followers updates on philanthropic efforts, pictures, highlights, GIFs, workouts, etc. They talk a lot about culture and still capitalize HEAT because Pat Riley and Udonis Haslem are intense individuals. The account consistently referring to Dion Waters as #PhillyCheese is the best thing about it. Retire his number, Pat. Put it right next to MJ's.
21. Charlotte Hornets (@Hornets)
Followers: 726K
🔥​ tweet:
The Hornets, for the most part, mix it up. Plenty of funny GIFs one would expect from an NBA Twitter account—but they're recycled way too often. And there's far too many announcements about the closing of the fan shop, if you're asking us. We get it. It's under construction. It ain't open like it usually is. We don't need a reminder every other day. If you like random shots of beautiful cheerleaders, than the Hornets deserve a follow. The best of the best comes when they tweet pics from the glory days of Mugsey Bogues and Larry Johnson rocking the OG pinstripe jerseys. And finally, we don't know what to make of this animation:
20. Detroit Pistons (@DetroitPistons)
Followers: 710K
​🔥​ tweet:
The Pistons fell a bit this year, and that's because their account seems to have gotten a little dry. Considering the action this season—like having its franchise heroes come back for the final game at the Palace—they still chose to blast a lot of tweets like this:
Dry and dusty. Even the #MayThe4thBeWithYou tweet above is a little…dehydrated. This is the D, we're talking about. We need y'all to break out like Tee Grizzley.
19. Dallas Mavericks (@DallasMavs)
Followers: 1.2 million
🔥 tweet:
The Dallas Mavericks mark the point on this list where the Twitter heat starts to get turned up above simmer. They were one of the first teams in pro sports to allow their social media manager to tweet from the heart, rather than from the brand guideline book, and while they certainly have their misses along with their hits we have to give them props for trying to break through the noise on Twitter.
Get those engagements, Mavs!
18. Los Angeles Clippers (@LAClippers)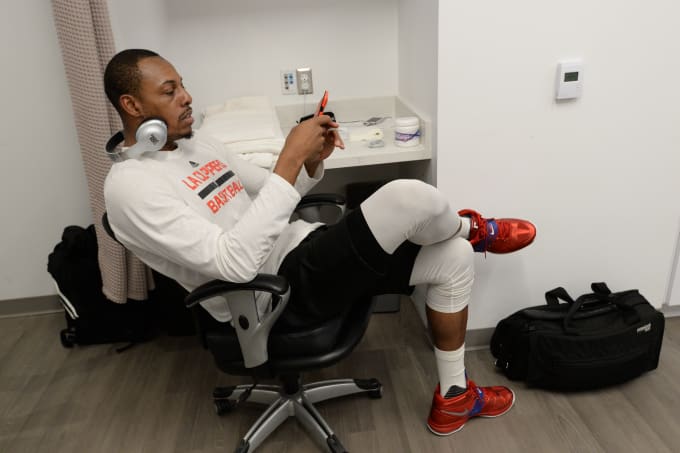 Followers: 1.1 million
🔥​ tweet:
Oh how the mighty have fallen… Ranked No. 4 on our list just a year ago, the Clippers fell off big-time this past season after the departure of their longtime social media guy. Once known for its absolute savagery, the account has become like most accounts in the league: inoffensive and mostly forgettable. Just check out the stuff they were doing in 2015-16 vs. what they did this past season:
and
Still, as evidenced by that last tweet the Clippers are at least making an effort to have fun on Twitter, which is more than we can say for most teams.
17. Los Angeles Lakers (@Lakers)
Followers: 6.17 million
🔥 tweet:
When you have millions of followers and your team isn't very good, it requires creativity to keep said followers engaged. By having the players address them directly (see above) and retweeting key alumni and affiliates such as Magic Johnson, Kobe Bryant, Jeanie Buss, and—most importantly—the Laker Girls, the Los Angeles Lakers do a wonderful job at this. With a top-three pick and a new front office fixated on bringing in star power, the product on the court should hopefully measure up to their social media prowess before long. And when that happens, watch out.
16. Utah Jazz (@UtahJazz)
Followers: 632K
🔥 tweet:
For the most part, the Utah Jazz stay true to their brand. They're likable and down-to-earth, and they're not trying to flame anybody or put them down. But they still have a bit of swagger to them, and coming off their best season in nearly a decade they deserve to. But Jazz, you can afford to not be so nice…
15. Denver Nuggets (@nuggets)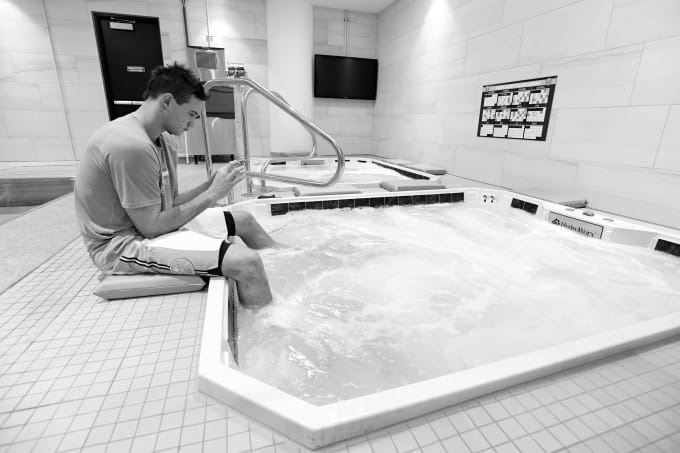 Followers: 634K
🔥​ tweet:
As they continue to rebuild, the Nuggets remain an afterthought. But at least their presence on Twitter has some flair. It's not flashiest feed in the NBA, but they'll keep it lively enough that you won't get bored—Danillo Gallinari, above, can probably attest. The Nuggets' Twitter crew likes to post a lot of video, so if that's your thing then you're going to love following them on a game night. They're also not afraid to voice their opinion, so if you slight one of their boys, they're going to call you out on it. Extra props for the copious Dikembe Mutombo #tbt posts and #MutomboMonday. A low-key 🐐 hashtag.
14. Washington Wizards (@WashWizards)
Followers: 662K
🔥 tweet:
After ranking No. 19 in 2015 and No. 16 last year, they've continued to rise in 2017. The Wizards really came into their own on Twitter this season, and while they might not be a team that strives for viral content or dank memes, their photos, videos and caption game are usually on point.
Sometimes Kermit macros and WWE GIFs are the way to go, but keeping it simple and elegant still works too.
13. Chicago Bulls (@ChicagoBulls)
Followers: 3.6 million
🔥 tweet:
Given that the Chicago Bulls have the league's best mascot (Benny the Bull), a player who actively hates mascots (Robin Lopez) and the best player ever (you already know), their Twitter account should be absolute fire at all times. Well, it's not. The in-game updates are decent, and there are live updates on postgame pressers and the like. But things can definitely be a bit too PR-ish for our taste, with lots of promotion for Sam Smith's columns and awards voting. (We get it, you guys REALLY wanted Dwyane Wade and Jimmy Butler to win the Community Assist Award.) They couldn't even be bothered to capitalize the "c" and "b" in their account name. With nearly four million followers, the Bulls account could afford to be a bit more playful. Try it, we think you'll like it.
12. San Antonio Spurs (@spurs)
Followers: 2.3 million
🔥 tweet:
When we put together our first NBA Twitter rankings in 2015, we placed the Spurs No. 29 in the league. Back then, the tweets were more forced and uncomfortable than a Gregg Popovich fourth quarter interview. But since then, they've emerged from Twitter egg status and have really spread their wings. We're proud of you, @spurs.
11. Phoenix Suns (@Suns)
Followers: 753K
🔥 tweet:
What, you're probably asking yourself, do the Suns excel at on Twitter.com? Well, we think it's by far their #TooMuchSauce posts featuring Alan Williams and his antics on, and off, the hardwood. Enjoy.
10. Houston Rockets (@HoustonRockets)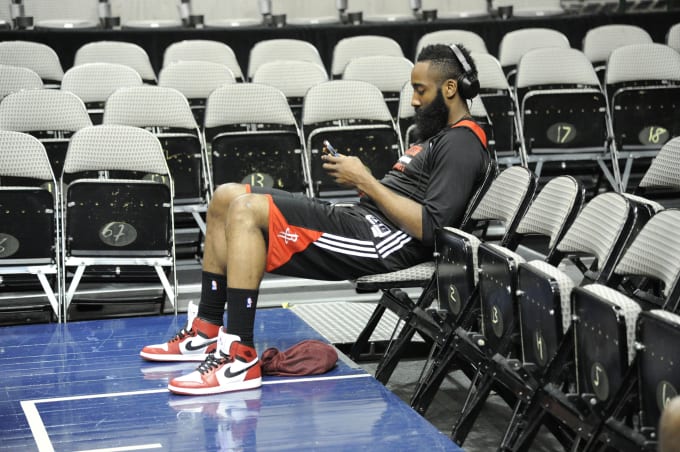 Followers: 1.71 million
🔥 tweet:
Much like their on-court counterparts, the Houston Rockets social media team relies heavily on James Harden. His usage rate on Twitter may even eclipse his usage rate on the court, and can you blame them? Harden has a distinctive look, a social media–ready nickname and provides GIF-able highlights by the truckload. But it's not just about The Beard. The Rockets social media crew gives a distinctive spin on all things Rockets, making it so fans worldwide can follow their favorite team's exploits without ever having to look anywhere else. Any team in any sport looking to revamp how they approach Twitter would be wise to follow Houston's lead.
9. Cleveland Cavaliers (@cavs)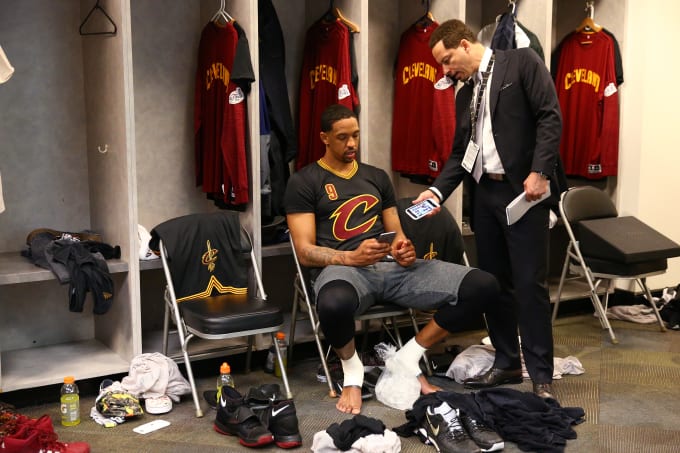 Followers: 2.1 million
🔥​ tweet:
This account could easily just be tweets of insane LeBron plays, but thankfully, they try harder. This may be why the Cavs' follower account doubled between last year, when they were outside our Top 10, and today, when they land at No. 9. Sometimes they're all business—gottapromote that team community service!—but more often, it's fire tweets like this:
@Cavs, now you're talking our language.
8. Golden State Warriors (@Warriors)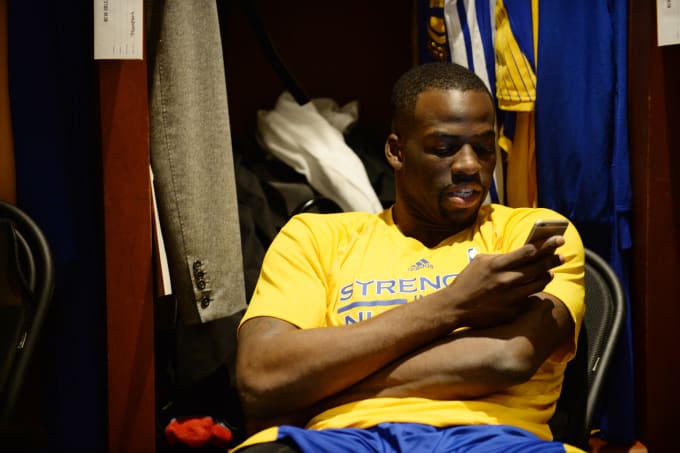 Followers: 3.5 million
🔥 tweet:
The Warriors were one of the original "fun" NBA Twitter accounts. Back when most other teams were just posting quarterly score updates and maybe the occasional Parks and Rec GIF, the Dubs were creating dope nicknames for their players and flaming Charles Barkley. And in 2017, they've kept up the heat.
It certainly doesn't hurt that they have Steph Curry, Kevin Durant, Klay Thompson, and Draymond Green to tweet about…
7. Atlanta Hawks (@ATLHawks)
Followers: 991K
🔥 tweet:
The wackiest and most self-effacing account in the NBA for as long as we can remember, the Atlanta Hawks are an entrenched top-10 team on this list every season. A lot of teams try to be snarky and clever, and usually that falls flat, but the Hawks strike a brilliant tone that really resonates with not only their fans but casual followers from other cities as well.
6. Memphis Grizzlies (@MemGrizz)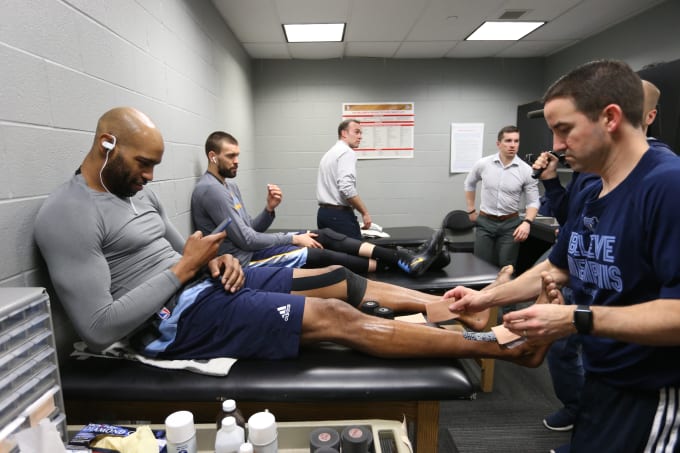 Followers: 766K
🔥​ tweet:
The Grizzlies might be a small market franchise, but their social media crew can run with the big dogs any day of the week. They retweet the players. They retweet minority owner Justin Timberlake. They like to get the audience involved, asking them to participate in polls and throwing up posts featuring fans interacting with the players. The squad also deserves kudos for showing some love to the Nashville Predators—the in-state hockey team—on its way to the Stanley Cup Finals. But they excel posting highlights at the expense of others. MORE OF THIS PLEASE.
5. Milwaukee Bucks (@Bucks)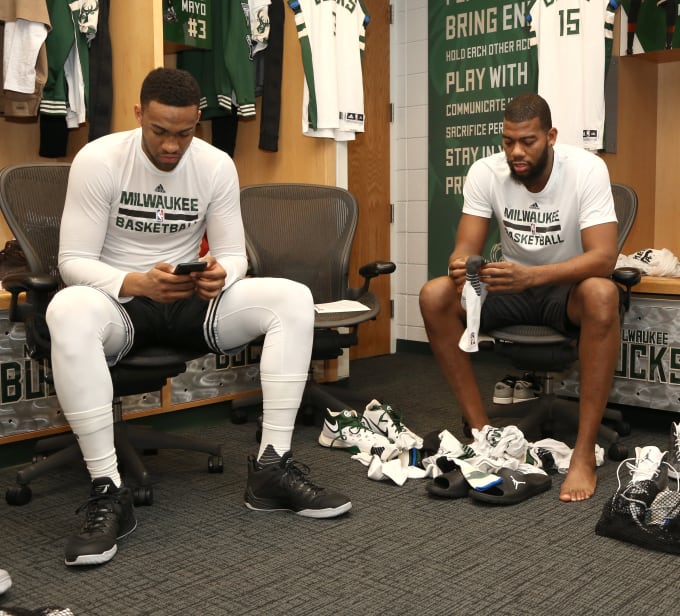 Followers: 695K
🔥​ tweet:
More Bango, please. The Bucks mascot does some crazy things during timeouts, and the Bucks feed can't put enough clips of his wild antics on the TL to satisfy our needs. In terms of game coverage and all that jazz, the Bucks will not overwhelm you or blow your mind. But they do a pretty good job of keeping you just the right amount of informed/entertained. Away from the game, we kind of like the updates they give on the new stadium under construction. And we're forever here for awkward Kiss Cam moments.
4. Toronto Raptors (@Raptors)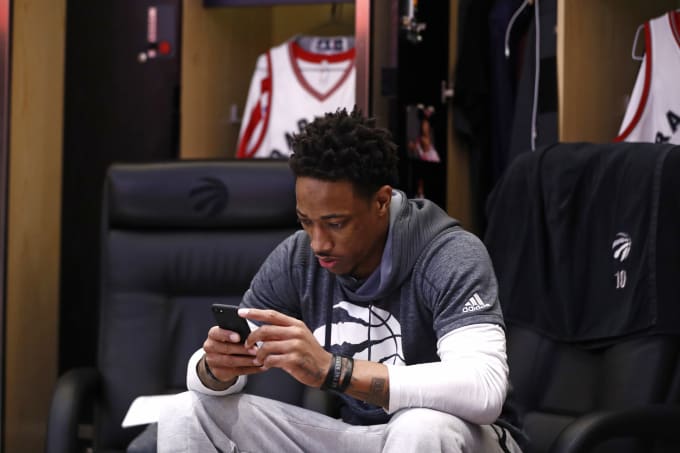 Followers: 1.4 million
🔥 tweet:
When you reach the upper echelon of NBA Twitter, it takes more than just snark and memes to break through. The Raptors are not only funny, brash and clever on Twitter, but their brand is awesome and they put together great-looking graphics too:
If you can make a tweet sponsored by Bic Razors look dope, you deserve to be top-five on our rankings. Plus, they know how to throw shade pretty well too:
3. Sacramento Kings (@SacramentoKings)
Followers: 714K
🔥​ tweet:
The Sacramento Kings may exist in a sad vortex of basketball dysthymia, but perusing @SacramentoKings you'd have no idea. They didn't win many games this past season, but when Sacramento did come away with the W they made sure to let you know about it:
The Kings were also part of perhaps the best moment on NBA Twitter all season, when they colluded with the Atlanta Hawks to mock a recent memo sent by the league office basically asking teams to play nice on Twitter. Read the whole thread, it's great:
And just look at these:
This is simply good Twitter.
2. Philadelphia 76ers (@Sixers)
Followers: 925K
🔥​ tweet:
It stands to reason that the team of the NBA's Twitter GOAT, Joel Embiid, would have a good social media crew, and @Sixers doesn't disappoint. Philadelphia's account perfectly melds silly with serious and was able to make even the post-Embiid doldrums of the 2016-17 season enjoyable for Sixers fans. And basically everything they do is on point:
Plus, they're super quick with highlights, funny in-arena stuff and photos:
We can't wait to see what they do when the team actually starts winning games…
1. Portland Trail Blazers (@trailblazers)
Followers: 823K
🔥 tweet:
Once again, the Blazers are crowned the NBA's best Twitter account. They're the funniest and most consistent, they tell the best stories, and their tweets are hotter, holla (a lil Jigga reference for you youngsters). If you don't believe us look no further than their tweets during Game 4 of their first-round playoff series versus the Warriors. By halftime the score was 72-48, Golden State. At the end of third the score was 106-80, and all Portland could do was tweet through it. We've all been there before. This is what usually happens when someone becomes a meme or gets put on blast for being broke during a flyout meet and greet. Sometimes it helps to get those tweets off; it's good for your mental health. This self-realization makes the Blazers the best NBA Twitter account three years and running.