Stephen Curry, Warriors Demolish Blazers After Record 1st Qtr, Complete Sweep
The Portland Trail Blazers were supposed to be just a steppingstone for the Golden State Warriors on the way to bigger goals, but the two-time defending Western Conference champs took that step with style Monday.
Golden State finished its sweep of Portland with a dominant 128-103 victory at the Moda Center. Plenty of Warriors impressed, with six scoring in double figures, but Stephen Curry led the way with 37 points, eight assists and seven rebounds behind red-hot shooting:
Warriors' Monday Leaders
Player
Points
Rebounds
Assists
Field Goals
Three-Pointers
Stephen Curry
37
7
8
12-of-20
7-of-11
Draymond Green
21
6
4
7-of-11
5-of-8
Klay Thompson
18
2
1
6-of-13
3-of-5
Source: ESPN.com
Damian Lillard did his best to keep the Trail Blazers in the game with 34 points and six assists, but he didn't have much help from anyone besides Al-Farouq Aminu (25 points and seven rebounds). CJ McCollum struggled, finishing with six points on 2-of-12 shooting from the field.
Game Essentially Over After One Quarter
Every now and then, Golden State reminds the rest of the NBA just how dangerous it can be.
It did just that Monday, scoring the game's first 14 points in a 45-22 first-quarter evisceration. The team noted it set a franchise playoff record for points in a quarter, besting the 42 it scored in 1994 against the Phoenix Suns.
ESPN Stats & Info put the opening 12 minutes in perspective:
The Warriors shot 8-of-11 from three-point range during the onslaught, and Curry led the way with three triples and 12 points.
Matt Ufford of SB Nation made the obligatory Simpsons joke:
Sports Illustrated was ready to call it:
Even the teams had fun with the showing:
Golden State was never challenged after the first quarter in what was a warning shot to the rest of the league's playoff teams.
Warriors Were Not Even at Full Strength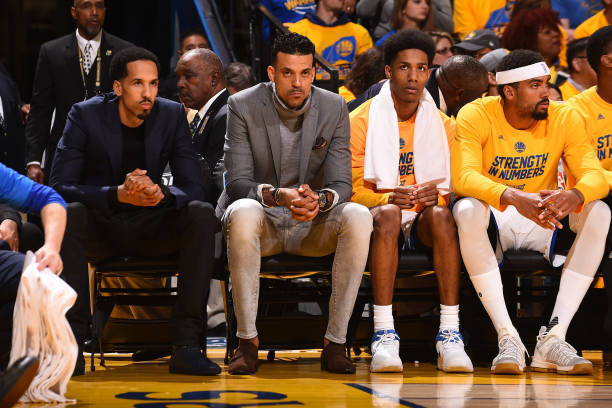 Noah Graham/Getty Images
Golden State announced Kevin Durant was available after he'd missed the last two contests with a left calf strain, but Matt Barnes (right ankle/foot) and Shaun Livingston (right index finger/hand) were sidelined with injuries.
What's more, head coach Steve Kerr missed his second straight game, and TNT's Lewis Johnson provided an update:
The Trail Blazers offered their well wishes:
While Kerr will remain a question mark going forward, the Warrors' on-court product figures to become even more effective as Durant shakes off any rust and others return to health. Given the nature of Monday's contest, Durant didn't have to push things, and he finished with 10 points in 20 minutes. Still, the 2013-14 NBA MVP is capable of taking over any game, and he looked effective for stretches Monday.
Golden State is in a championship-or-bust situation after it lost last season's NBA Finals to the Cleveland Cavaliers, and it has the potential to be even better than it was Monday. If it shows that next gear, a second ring in three seasons seems like an inevitability.
Trail Blazers' Two-Headed Backcourt Becomes One
Lillard can hold his head high after his performance Monday. Portland even suggested he could serve as the new logo:
Former Oregon Ducks football star LaMike James praised Lillard:
Trail Blazers fans were likely thrilled Lillard scored 34 points, but said excitement was tempered as McCollum failed to play to his usual standards. He didn't score in the first half and had a mere two points on 0-of-9 shooting entering the fourth quarter.
ESPN Stats & Info noted the first half was just McCollum's second scoreless half of the entire season.
Portland was fighting an uphill battle against Golden State even with its two stars firing on all cylinders. McCollum's disappearing act made winning Monday's game nearly impossible, especially since Curry caught fire from deep.
The Warriors no longer have to worry about Lillard and McCollum, though, and will play the winner of the Los Angeles Clippers–Utah Jazz series, which is tied at two games apiece, in the second round.