by: Zach Buckley
MIAMI — Cleveland Cavaliers head coach Tyronn Lue had to relay one point of clarification before his team took the court Monday to fight for control of the Eastern Conference's No. 1 seed.
"We're coming out with the intention of winning tonight," the skipper said.
It seemed a strange declaration for a team still alive and well at this point on the NBA calendar. But it was also a necessary statement given the Cavs went into the contest against the Miami Heat without LeBron James or Kyrie Irving, two healthy All-Stars dealing with the same bumps and bruises everyone wears this time of year.
Cleveland would take the victory if it could get it. But that was second on the priority list behind a quick recharge of the team leaders' batteries.
"The most important thing for us is to give those guys a rest," Lue said. "They have carried the load all season with injuries and guys being in and out, and it's just the right thing to do.
"For us going forward, if we want to make a long run deep into the playoffs, those guys being healthy is the most important thing."
After Lue's announcement Monday, the ensuing 53 minutes—replete with an edge-of-your-seat overtime session—saw the short-handed Cavs empty their fuel tanks and run out of gas in a 124-121 overtime loss to a Heat team fighting to maintain a playoff pulse.
The outcome, coupled with the Boston Celtics' 114-105 win over the Brooklyn Nets, stripped Cleveland of control in the race for the top spot. The Cavs are now a full game behind the C's—who can clinch the East's No. 1 seed either with a win over the Milwaukee Bucks on Wednesday or a Cleveland loss against the Toronto Raptors that same night.
According to FiveThirtyEight.com, the news gets worse for the Cavaliers. The site currently has them sitting at just a 15 percent chance of earning the top seed, while Boston sits comfortably at 85 percent.
But that hasn't shaken the Cavs' confidence. In fact, they've reportedly already made the decision to hold James out of Wednesday's season finale, though Irving could see the floor, a source told The Athletic's Jason Lloyd.
In a visiting locker room Monday night chock-full of ice bags and ice baths, the focus was on simply moving on from the campaign's first 82 contests regardless of seeding.
"I think everyone's just ready for the regular season to be done," Kyle Korver said after playing more minutes (30) and scoring more points (18) than he had in more than a month. "We're just ready for Wednesday to come and go and get ready for the weekend."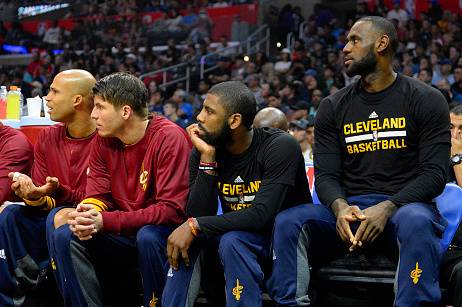 Robert Laberge/Getty Images
The weekend is when the postseason opens and Cleveland starts its quest for a third straight trek to the championship round.
And the Cavs know what everyone else knows: No one in the East has a ceiling higher than theirs.
Having James on the roster has been an automatic Finals ticket for six years running. The top seven players in playoff minutes from last season's title team are still around, and this time they are supported by former All-Stars like Korver and Deron Williams.
Regardless of record, the conference is viewed as Cleveland versus the field. That has led to stretches of coasting, hence the uneven months (7-8 in January, 7-10 in March) and atrocious defense of late (29th in efficiency since the All-Star break).
That's why the postseason looks so inviting. The Cavs know they can't get by with anything less than their best.
"The idea of getting locked in and having that do-or-die type mentality, knowing that we could be sent home … I think we need that right now," Kevin Love said.
Cleveland has a slew of veterans rich with playoff experience. There's an understanding that the regular season has only been a tune-up for what lies ahead.
Which gives credence to Lue's late-season approach to minutes management.
James, who's already 25th on the NBA's all-time minutes list, hasn't played this much (a league-high 37.8 per game) since he returned to Cleveland. Kyrie Irving, who's had injuries throughout his career, has played nearly four more minutes a night than last season (35.1, from 31.5).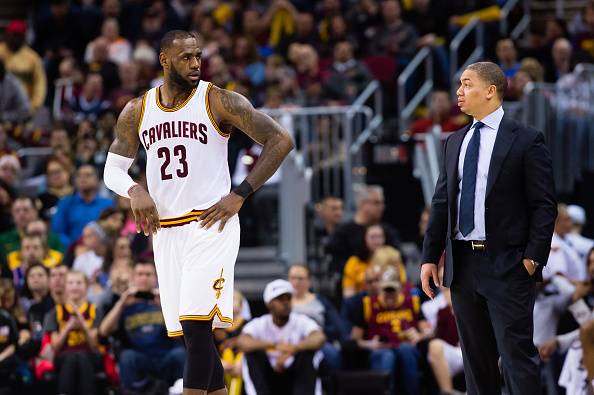 Jason Miller/Getty Images
Together, the two generate 51.6 points and 14.6 assists on a per-game basis. Each has a top-15 usage percentage (Irving is ninth at 30.7, James is 12th at 30.0). The Cavs' offensive efficiency falls 8.8 points per 100 possessions without Irving and 13.1 without James.
Putting fresh legs under the pair gives Cleveland an unmatched edge in the East.
"If we get our rest and we're healthy going into the playoffs, I like exactly who we are and what we can do," Lue said.
Fatigue and wavering focus can be killers on defense, and it will be worth watching how much improving those areas helps Cleveland find competence at that end.
Elite defense isn't required for championship teams, but no one has taken the crown without a top-10 defense since the 2000-01 Los Angeles Lakers. The Cavs won't hit that mark, but the key ingredients from last year's 10th-ranked defenseare still in place, so a substantial upswing wouldn't be shocking.
That's Cleveland's challenge: to find its best version. If it does, nothing that happens around them in the East will matter.
If the Cavs slip to the second seed, which is looking more and more likely following Monday's results, the only potential damage would be playing Game 7 of the Eastern Conference Finals in Boston. They won their last trip there by 23 points.
Oh, and this group twice solved the puzzle of Oracle Arena in win-or-go-fishing games in the 2016 Finals. There's no incentive to seed-chase.
"Obviously this isn't last year, but we won on the road last year everywhere we went," Love said. "I'm definitely confident in this team."
As he should be. The rested, healthy Cavaliers are as dangerous as Eastern Conference clubs get—regardless of venue.
All quotes obtained firsthand. Statistics accurate through Monday and courtesy of NBA.com and Basketball-Reference.com.
Zach Buckley covers the NBA for Bleacher Report. Follow him on Twitter: @ZachBuckleyNBA.